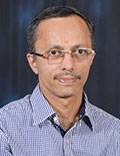 Dr. Prasanna Venkatesh T S is a qualified Ayurveda doctor specialized in Panchakarma therapy, which is the specialty of Ayurveda.
He was born near Sringeri, in the midst of the nature's gift i.e, the vast green stretches in the interior of Karnataka, India, which offers not just peace & beauty but also a gift of natural herbs. He had the opportunity to complete his education in Ayurvedic sciences from this natural garden.
After the completion of his BAMS (Bachelor in Ayurveda Medicine & Surgery) from ALNR Memorial Ayurveda Medica College, Koppa, in quest of knowledge he went through rigorous courses of traditional Kerala style Panchakarma procedures at several renowned institutions like Poonthottam Ayurvedashram hospital, Palakkad, Kerala; Nagarjuna Herbal Concentrates Healthcare Center, Kalady, Kerala etc.
He did his Ayurveda practice in Shimoga for seven years, later shifted to Mysore, India. In Mysore he started Sriranga Ayurveda Chikitsa Mandira which is purely dedicated to Ayurveda and society.
Experience:
Clinical experience                                 :  16 years
Experience in classical Panchakarma  : > 10 years
He has conducted 500 Vamana (Medically induced Vomiting), 1000 Virechana (Medically induced Purgation), 1000 Basti (Medicated enema) During his clinical & therapeutic experience, he has come across many functional emergencies like high / low blood pressure levels, high / low blood sugar levels, renal medical emergencies, some of the cardiac medical emergencies which were managed by him with Ayurveda successfully.
In the meanwhile, by the inspiration of Late Dr. Vasanta L, he started the charitable Trust Prakruthi Ayurveda Prathishtana® during 2009, through which many activities to promote Ayurveda are being carried out.